Your inspection is covered by a limited Structural and Mechanical Warranty that
includes items that may break shortly after you move in. Enjoy true peace of mind!
See policy for details.
Pricing
Under 1500 sq. ft.- $275
1500 to 2500 sq. ft.- $325
2500 to 3500 sq. ft.- $375
3500 to 4500 sq. ft.- $425
Over 4500 sq. ft.- Call For Pricing
$50 Charge for House Over 50 yrs. old
Radon Gas Testing- $125
Wood Destroying Pest (Termite)- Free With Full Home Inspection or $125 By Itself
Water Testing- $100

*Prices subject to change based on age and condition of the house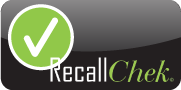 We'll check for safety recalls on all of your
major appliances and protect you and your family from recalls for life.
This is just one of the many ways that
we'll exceed your expectations.